Ricaurte Soria Ortiz, alias ´Orlando Carlos,´ implicated former mayor Efraín Ricardo Acosta Zarate in the murder of journalist Carlos José Restrepo, committed by paramilitaries on Sept. 9, 2000.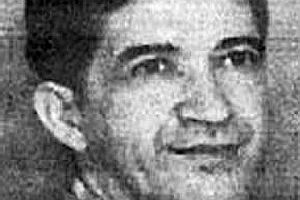 Carlos Rocha was killed by paramilitaries. Photo: El Nuevo Día de Ibagué.
The demobilized chief of finance of Bloque Tolima of the AUC, Ricaurte Soria Ortiz, alias ´Orlando Carlos,´ acknowledged to a human rights prosecutor his participation in the homicide of journalist Carlos José Restrepo Rocha, which occurred 13 years ago in San Luis.

The facts go back to Sept. 9, 2000, at the mouth of the Cucuana dam in Guadalajara, where armed men, dressed in plain clothes, proceeded to gather workers, adducing that they were guerillas. They asked for Carlos José Rostrepo Rocha, who, upon identifying himself, was informed that the visitors from a group of Carlos Castaño Gil. They took him to El Caimital, where he was killed with a firearm.

"There was a meeting on the estate La Lorena, which ´Chicha Fuerte´ attended, and told the commander ´Elias´ that Restrepo was the one who gave information to the FARC in the town and to send the guerillas at him," Soria said.

´Chicha Fuerte´ is the alias by which Elfráin Ricardo Acosta Zarate, the former mayor of San Luis who has already been implicated in the homicide, was recognized among the AUC.

Soria recalled that by ´Elias´s order,´ various units moved to the Cucuana dam, where Restrepo went that Saturday to advance the payment to workers depending on the Guadalajara Cooperative that he managed.

"Indeed, I verified that this was the person Chica Fuerte had told us about," Soria said. Subsequently, the journalist was taken before the commander ´Elias´ on the Caimital de San Luis, where the paramilitary boss killed him with five shots from his pistol.

Restrepo was the head of the newspaper ´El Tangente,´ which covered administrative information of the mayor´s office, City Council proceedings and social and tourist activities in San Luis. At the same time, he was the editor of the newspaper ´Usocello al Día´ and had started a hour-long television program covering the news in San Luis.

The journalist was demobilized from M-19 and was aspiring to serve on the City Council of San Luis with the support of former deputy Angel Marín.

In regard to this case, a prosecutor assigned to the Superior Court of Bogotá confirmed the accusation against the former mayor of San Luis, whose trial will resume in the coming days.

Acosta Zarate has arleady been sentenced to seven years and six months in prison for his links and for using public resources to finance Bloque Tolima. The sentence was upheld in August 2010 by the Superior Court of Ibagué.

For the crime against Restrepo, Soria accepted a plea bargain. The process of the murder of Restrepo has been advanced by the National Human Rights Unit and the IHL.